Leather jackets are such pieces of clothes that never go out of style. No matter how old you are or what gender you belong to, leather jackets will always elevate your entire outfit to the best. Whether you want to look chic, classy, or goth, it will help you achieve your desired look effortlessly with minimum styling.
This blog lists some of the simplest ways to complement your outfits with leather jackets.
How To Buy a Legit Leather Jacket?
Before you learn how to style your outfits with leather jackets, it is essential to know how to select this particular item of clothing first. Many people sell fake leather jackets due to people being unaware to tell apart genuine leather from a fake one. Well, we are here to make this dilemma easy for you.
There are five simple ways to spot a genuine leather jacket:
Genuine leather doesn't come cheap. If anyone is selling you a leather jacket at throwaway prices that is not genuine leather.
Leather jackets have a natural, organic smell. If your jacket smells plasticky or unnatural, it most probably is fake.
Natural leather is made from animal skin. Hence it has pores. If your leather jacket absorbs water, it's real.
Leather jackets are significantly heavier than other materials. Do the weight test before buying it.
A genuine leather jacket lasts for a long time if maintained well. They don't quickly get damaged.
Different Looks to Try With Leather Jackets:
Now that we have learned how to identify a genuine leather jacket, it's time to learn how to style it with different looks. We have selected some of the best looks for you to style with leather jackets. So without any further ado, let's see what they are!
1.    A Chic Look to the Concert: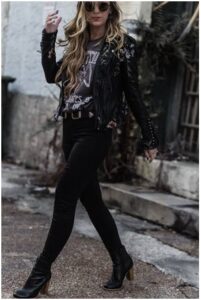 Styling a concert look has to be one of our favorites! So many things go into creating this perfect look, including the right outfit to go with the leather jacket, the right makeup to pop in the disco lights, and maybe a perfect pair of hoops to finish the look.
Black leather jackets look fabulous with a pair of jeans and a t-shirt supporting your favorite band! One most important thing about deciding a look for concerts is to use minimum items on your face, as you'll want to dance and have fun without worrying about your bag, phone, or other material things. So for that, either place your valuables in the pocket of your jeans or wear a small, cross body bag that you don't have to carry in your hands and still look amazing!
2.   Look Stylish in Winters: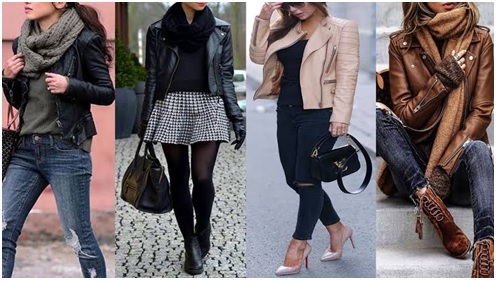 Winters are perfect for styling your favorite leather jackets with comfy clothes. We LOVE a good pair of plain, fitted turtlenecks to go with your favorite plus size leather jacket, a couple of jeans, and a nice pair of boots to complete the look. You can also wear a long, loose coat to complete the look.
Or instead of a pair of jeans and a long jacket, you can wear a trendy skirt with a warm pair of leggings under it. Winter clothes are often layered to make a person feel warm and comfortable, and they still look great if the layering is done with style and coordinated with an outfit.
Leather jackets are great on their own to make a person feels warm, no matter if worn over layers or simply a full-sleeved t-shirt or turtleneck.
3.    Elevate your Cute, Summer Dress: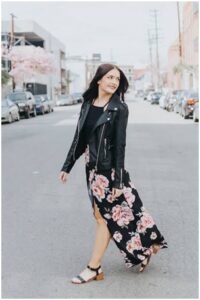 Leather jackets made from lamb's skin are comfortable and light, making them fantastic to wear in summers. Such leather jackets are perfect to wear in the summer with an adorable summer dress. You can also pair a two-piece with leather jackets, like a skirt and blouse.
Wearing a plain button-up shirt with mom jeans and a leather jacket also looks carelessly cool. If you ask us, nothing compares to a gorgeous floral dress paired with a fabulous pair of leather jackets. In the picture above, the girl is wearing plain black sandals to complete the look.
We loved how the whole outfit turned out! What do you think?
4.    Go Vintage with Brown Leather Jackets: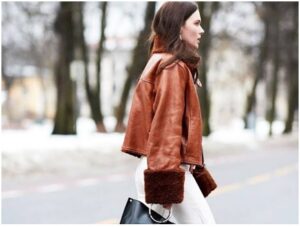 Vintage clothes are worn years before and are now being styled in a slightly elevated way. Brown leather jackets give out a whole rough, yet classy vintage look if paired correctly with the right outfit. Like in the picture, the model is wearing a brown leather jacket with woolen collars and sleeves.
These not only go well in winters but pairing them with a matching pair of leather bags or boots elevates the whole look well. Brown leather jackets have been great whenever paired with black or white outfits. If you're wearing a plain white dress, a brown leather jacket with brown leather boots can never go wrong.
5.    Go All Black: 
Okay, who here loves a good, black outfit? We know we're obsessed with black! Whether it is a dinner plan, a trip, a concert, or simply a day out with friends, black doesn't go wrong anywhere. To pair a gorgeous piece of black leather jacket, you have tons of options, like a plain black pair of ripped jeans, a plain black shirt, and black close-toed shoes.
And as if a completely black look wasn't giving you a major badass vibe, how about giving a red lipstick to top it off with? Liquid fire, isn't it?
Reads More: Top Motives Why Shoes Must Go With Your Clothing
Final Thoughts:
Leather jackets can make any outfit look blazing hot. Regardless of weather conditions or your clothing preferences, leather jackets are there to make you look even better. So many accessories go well with leather jackets like hoops, Crossbody bags, boots, or just plain sandals.
What you need to know is the tiny tips of making your outfit pop, like color coordination, hot/cold combination, which includes the material of your outfit in terms of weather, and in short, how you carry yourself with the outfit.
Have the confidence to carry a leather jacket, and you'll nail it without having to pair it with any other accessories in the most effortless manner.