Morocco is a North African country distinguished by its Berber, Arabian, and European cultural influences. It borders the Atlantic and Mediterranean Seas, offering picture-perfect sceneries. It is an ideal place to spend your honeymoon or week-long trip with your SO (significant other).
10 Romantic Towns You Need To Visit in Morocco with Your SO!
Check out these romantic towns in Morocco you and your SO should visit for a sweet and—undoubtedly—beautiful sightseeing experience! These destination sites should also be perfect venues for your engagement proposal, wedding prenup shoot, or destination wedding.
1. Marrakech
Whether you're in Morocco for a fun adventure with family and friends or a honeymoon with your SO, Marrakech should be your first stop! It is an unmissable destination, thanks to its picturesque views and rich history.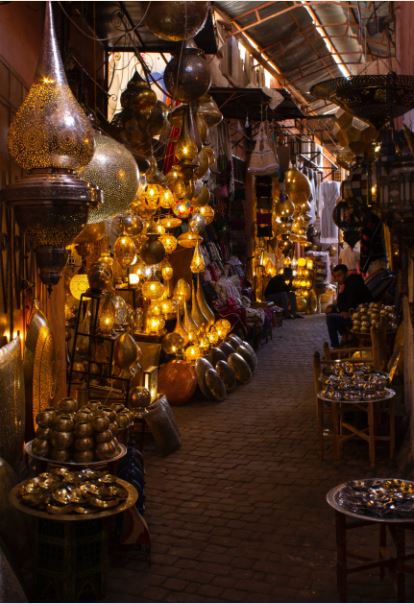 The panorama around the city is equally breathtaking, offering an Instagram-worthy vista from every angle. When in the city, take an excursion at Jemaa El-Fna square. If you're a massive dendrophile, the Lalla-Takerkoust won't disappoint you—it may also be an ideal place to pop the big question!
Meanwhile, a visit to the El Badii Palace, Saadians Tombs, and El Koutoubia Mosque will make you feel like stepping into 1800s mid-century Morocco. But if your heart beats for everything Mediterranean, check out the Majorelle Garden! The whole place euphemizes the term "a slice of heaven on earth," through the colorful house and the paradise-like garden outside.
2. Ifrane
Want to spend a white Christmas in Morocco with your beau? Drive up to Ifrane!
Ifrane is a town in Morocco's Middle Atlas Mountains. Surprisingly, there are magical snowfalls during the winter at Ifrane. It resembles a Swiss mountain village more than its own country's desert villages and Moorish architecture.
Most buildings in Ifrane are utterly charming, thanks to the European-inspired (mainly French) chalets and lush gardens and parks. This tranquil and quaint oasis is primarily due to French colonial settlers, who built the town to escape the summer heat.
3. Meknes
Meknes is a city in northern Morocco known for its picturesque monuments, impressive architecture, and well-maintained heritage site. For that alone, it gained recognition as a UNESCO World Heritage Site.
The city is known for its previous imperialist government. It still has few remnants of the sovereign ruling, including Bab Mansour—a monumental arch gate intricately designed in mosaic tiles. It was initially the main ceremonial gateway to the Kasbah of Sultan Moulay Isma'il.
If you're looking for a great wedding prenuptial shooting location, choose Meknes. Posing romantically with the beau in a UNESCO World Heritage Site sounds exciting, isn't it?
4. Asilah
A splendid coastline city on the northern bank of Morocco sits Asilah. It has a rich and diverse history, with roots dating back to the sixteenth century. The whole town—also known as medina—therefore, is an old one.
Well-preserved centuries-old ramparts and gates—built by colonial Portuguese—surround the whole medina. Nonetheless, the medina is an art hub recognized for its murals and the annual festival, Moussem Culturel International d'Asilah.
The charming showcase of Morocco's heritage easily makes the whole stroll around the medina an enriching one. around the medina will be an enriching one, thanks to the charming showcase of Morocco's novel heritage
5. Fes
Planning to go to the northeastern part of Morocco? Check out Fes!
Fes is the second-largest city in Morocco that maintains a much smaller town's unique charm and character. For that alone, tourists and locals alike call them the 'Cultural Capital of Morocco.'
The city features two ancient medinas, Fes el Bali and Fes Jdid. The former is a Unesco World Heritage Site known for its intricate medieval Marinid architecture, vibrant souks, and classic courtyards. It is also home to religious academic institutions such as the Bou Inania and Al Attarine—a 14th-century building decorated with elaborate cedar carvings and ornate tile work.
As a whole, Fes features many outstanding Islamic architecture examples, from ancient madrasas to monumental mosques. All of which are exquisitely decorated with arabesque patterns, making the city similar to an open-air museum. While exploring the city center, be sure to stop by the tanneries area and check out the famous pits full of colored dye.
Our tip? The Medina of Fez can be a real maze, so be sure to plan your trip or hire a tourist guide if you don't want to get lost.
6. Agadir
If you're considering the picture-perfect Moroccan beaches as your wedding venue, narrow down your option to one town: Agadir!
Agadir is the capital of Agadir-Ida Ou Tanane province, marked as a resort destination in Morocco. The city is famous for its golf courses, moon-shaped coastline, and seaside promenade lined with bars, cafes, and restaurants. Without a doubt, one of Agadir's spectacular resorts will be an ideal venue for your beach wedding!
The city is also an excellent stop for water sports as it has over 15+ surf spots! Now, that's an ideal bachelor party venue, too, yeah?
7. Ouarzazate
There's no better way to stroll with a loved one than in Ouarzazate!
Ouarzazate is a romantic city to go to for a day trip as it has an incredibly scenic view that sprawls over a dramatic natural plateau. It also offers a magnificent panorama between the Atlas mountain and the Sahara desert.
When you go to the beautiful Ouarzazate, you'll feel like stepping into a movie set! Of course, this shouldn't be a surprise considering scenes of famous Hollywood movies like Lawrence of Arabia (1962), The Mummy (2000), Gladiator (1999), and several other films were shot there. For that reason, the city is called the movie capital of Morocco.
Ouarzazate is also a great starting point to traverse the region's many beautiful sights, starting with the Ksar of Ait-Ben-Haddou. It is a UNESCO heritage medina—an absolute must-see in Morocco. While you're in the town, you must also visit Dades Valley and Roses Valleys, and the Todra Gorges!
8. Essaouira
Located on the west bank of Morocco, Essaouira is one of the country's cherished gems. The striking oceans and stunning sandy seashores of Essaouira make it a must-visit if you love spending sunsets by the beach with the SO!
Essaouira's medinas have an air of tradition sprayed all over it—influenced by European and North African culture, which are also evident through their iconic architectural buildings. As such, stroll down the historical landmarks of the medina to get a great view of their history.
Besides the astonishing and classical beauty that encompasses the town, Essaouira is home to charming souks and a clamoring dock packed with colorful boats that look Instagram-worthy! And like any perfect harbor, there is also fresh seafood sold nearby. By fresh, we mean straight from the ocean.
If you enjoy the fun nightlife, Essaouira is also an ideal place to go and explore! Many quaint cafes and modern restaurants offer live concerts of traditional music. The city even hosts the Gnaoua music festival. Every summer, many foreign artists and Gnaoua musicians worldwide go to Essaouira to experience an exhilarating music festival.
9. Tangier
Get a taste of Morocco's cosmopolitan life through Tangier.
Tangier is a Moroccan port on the Strait of Gibraltar that sits at the crossroads of Europe and Africa. The city has an impeccable landscape that is a place of inspiration for many writers and painters worldwide.
Not very far from there are Corniche de Tanger, Gardens, and Merkala. Exploring these places will also be worth your time—it's also an ideal spot to blend with the locals!
And, never miss your chance of going to the mythical Caves of Hercules and Cape Spartel. The latter is a peninsula located 1,000 feet above the sea at the entrance of the Gibraltar Strait.
10. Chefchaouen
While in Morocco, never miss a chance to go to Chefchaouen! Thanks to its increasing popularity over the past years, the city has become an ideal place for tourists—or social media influences—that admire Instagram-worthy photographs.
Situated in the northern part of Morocco, Chefchaouen is notable for its prominent blue houses arrayed beautifully against the Rif mountains. The city cascades over the mountainside, with each new level exposing more novel structures, picturesque vegetation, and quaint cafes.
Reads More: Essential Guide Before Dating an African Woman
A portion of Chefchaouen looks like Islamic and Andalusian architecture combined. They are exceptionally noticeable by the blue-painted dividers and red tilings on the roofs. The arched entryways and gates laid with Machuca-like tiles are also a feast to the eyes.
Tourists can also enjoy delightful Moroccan delicacies, converse with local people to get a glimpse of their culture, and wander in the encompassing hills. Without a doubt, all these easily make Chefchaouen an ideal spot for friends, families, and honeymooners.
Have Fun in Morocco!
Morocco is a coruscating country with a rich history and remarkable architecture. Its history, culture, and art are a must-see and learn, as well. And what better way to do all that than with a loved one by your side, yeah?
Have fun on your stay and enjoy the striking vista that Morocco has to offer!