The color black, in itself, simply denotes sophistication, and when you add shoes to it, it becomes the epitome of sophistication. With a decent pair of black shoes , one can never go wrong! The idea of black shoes is virtually like breathing oxygen — it is needed for everyday living. And it's not even a joke. Black shoes are multifaceted, definitive, and easily accessed in almost every tiny/big outlet that maintains their extensive stocks. They are like an indispensable part of a wardrobe for both men and women. Despite not being in the clothing category, these are of paramount importance as they sum up an outfit to give a polished and definitive look. In a nutshell, they are accessories to have every confidence in.
Black Shoes for Women
Every dress and outfit can be styled with a pair of black shoes. The color is an embodiment of grace and subtlety. One can very easily incorporate black shoes into everyday style. Women can style black with trousers or pants and a shirt for formal meetings or casual office wear. Denim and a T-shirt can be complemented with a pair of simple black shoes for a relaxed outing with friends.
Women can also style floral summer dresses with black loafers or ballerinas. There are a plethora of options in black shoes to choose from. Nothing looks as attractive and classy on the feet as a pair of chunky black shoes. One can rock an evening dinner or a date night with a stunning appearance of a black gown styled with a couple of chunky black heels to make an attractive appearance.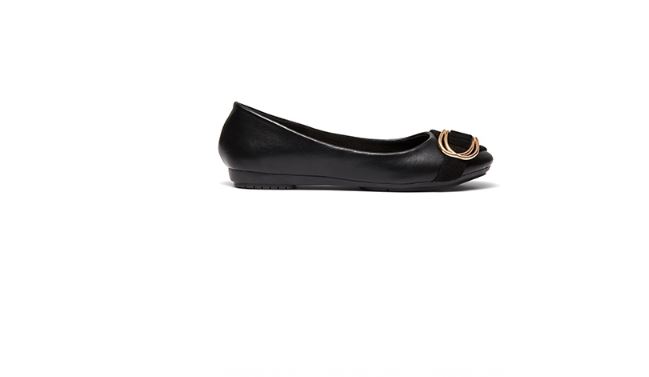 If one dresses up for an exciting event such as a live event or a concert, one can rock the night away by pairing a flared dress with a beautiful pair of black ballerinas. One can be a dancing diva at a friend's wedding and simply dance away the night with ladies' black shoes.
Black shoes in any form will complement and uphold someone's style quotient, whether it is a formal event, a cultural event, an interview or a business meeting, or even just a casual get-together. Shoe brands these days bring to fingertips a much-needed variety in black shoes through the internet.
Black sneakers give fun and bold look. One would like to keep the rest of one's outfit pretty simple. One could stick to monochrome shades of black, white, and grey when going Black to Black. When the sneakers have black uppers with white soles, one can expand the color palette slightly by adding dark blue denim, olive greens, khaki chinos, and earthy rust tones.
Black Shoes For Men
To men, black shoes are a topic of necessity as survival. Black Shoes are versatile, classic and hardly need primary research around as almost every store, big or small, has extensive stocks. Even though they're not pieces made of fabric, they're like menswear necessities.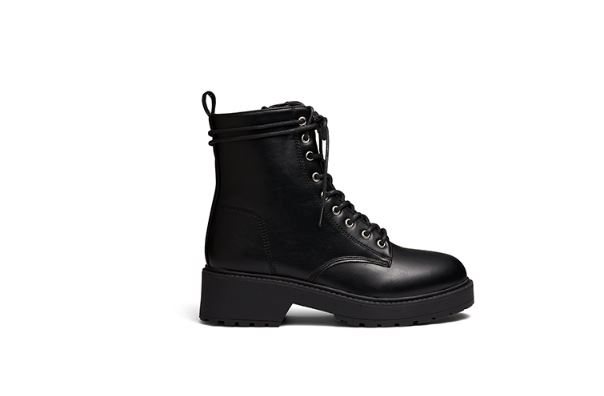 They come in numerous variants and making a choice between them is hard. We've listed four types of black shoes for men for their collection. They'll instantly elevate any ensemble out together.
Slip-Ons
As it translates, they are easy to slip into. Men looking for lace-less options in a black dress can opt for a black formal slip-on. Styles like espadrilles, moccasins give a casual look. Possibilities are endless when it comes to different types of black shoes.
Dress Shoes
Back dress shoes in oxford or derby shoes are a part of an excellent formal collection.
Ankle-Length Boots
Dark black ankle-length boots with dark jeans or black jeans are perfect for winter. As things get cold and shivering starts, layering becomes a necessity. This serves birth the style and comfort.
Chukka Boots
The majority of men aren't aware of the existence of chukka boots. These boots are almost like unsung heroes of style without being much mainstream. They give a great look with khaki suits and can last long. Go well With a pair well with shorts (if worn in suede) and are evergreen. 
Perks of Black Shoes
Of all the colors, Black is the most formal of all. Any style of shoe in Black is more formal than the same style of shoe in brown. Events with specific dress codes, like black ties, are complemented with black shoes. If one attends black-tie events often, then one probably wants to go with black shoes. Black shoes are the epitome of formality.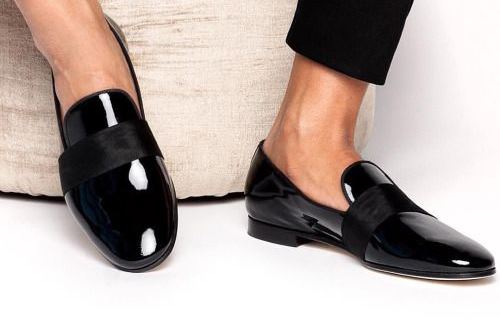 Black Shoes Care
Black shoes are effortless to take care of. Though they can get a little scuffed and dirty, one can simply take a brush and clean them off, followed by some black polish it is ready to be worn. Once a week or fortnight, a moisturizer should be applied to the leather to shine and make it softer. Consistently using the polish keeps the black shoes looking good for years.
Reads More: MSME Registration for Startup
How to Clean Black Shoes?
Black shoes should be dusted with a soft brush to remove debris, and baking soda can be used to remove any grease or oil stains. Black shoes are a must-have in the collection for everyone. Whether young or old or even children, black shoes instill confidence and comfort that can be carried everywhere.