An opal engagement ring is an exquisite expression of love.
It's an undeniable fact that after witnessing an opal, people can't resist falling for its beauty. Addressing an opal as just a beautiful gemstone would be an injustice because it appears to look like an illuminating galaxy trapped within.
If you are going ahead with the thought of buying an opal engagement ring, you are probably making the most romantic decision for your partner. With the meaningfulness hidden inside an opal engagement ring, there is so much that an opal has to offer.
We are sure that this opal engagement ring guide would help you choose the most sought-after opal ring, and you would end up smiling reading this blog.
So, let's start from the basics of this incredible stone –
What is an Opal Gemstone?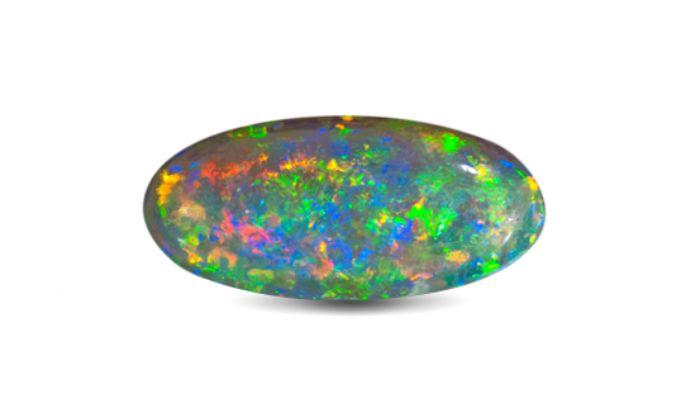 Opal is also called the "queen of gemstones".
Opals are considered the rare stones found on earth, and that's why they get swooped right after they are mined from the location. Opals are delicate, but they are so unique and their appearance can not be described in a few words. Opal has the rich purple color of amethyst, the gentle fire essence of the ruby, and the sea-green hue of the emerald. All we can say about opal is that – It has sparkling rainbows within.
The formation of opal is very interesting – when rainwater reaches the fissures of rocks and accumulates there, and evaporates, it leaves behind deposits of silica, which later becomes a stone and reflects stunning colors.
Opal is formed mostly in Australia (around more than 90%) and other countries like Indonesia, USA, Ethiopia, and Mexico.
Do you know: Opal is interestingly rarer than diamonds?
Opal Engagement Ring Meaning
An opal engagement ring has deep significance, besides its irresistible charm and wondrous luster, it stands for purity, truth, hope, admiration, love, and commitment. The best thing about an opal engagement ring is its budget-friendliness. You can get a bigger opal stone without making a hole in your pocket.
The flashing color of opal signifies that your bond with your partner would always flourish with flying colors.
How to Choose an Opal Engagement Ring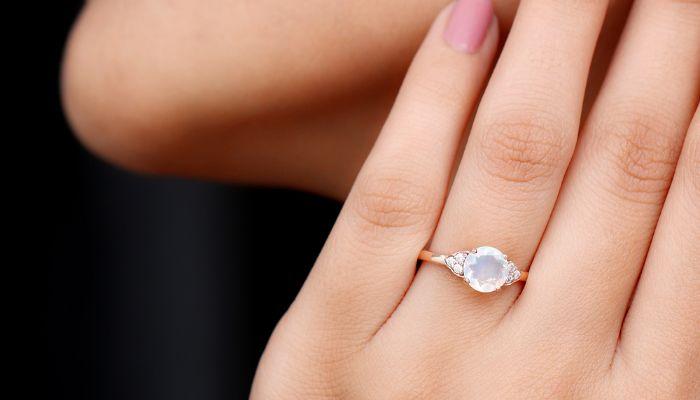 There are certain things that you need to observe closely while selecting an opal engagement ring for your partner, to ensure that you're getting a swoon-worthy opal.
Opal has a huge variety of colors and comes in different ranges. Black opals are the most expensive among all, while white opals are the most common.
We know cuts are for brilliance, but in the case of opals, the stone is most prominently found in a cabochon cut. (soft and symmetrical domed top and flat base)
You must observe that the opal you're choosing is showing ethereal flashes of colors within, it is the most prominent quality of an opal.
Opals are never faceted, their surface is always smooth like pearls.
An opal stone is known for its miraculous inclusions that are trapped within which makes opal an illuminating stone.
Opal Engagement Ring Cost
Well, the cost of an opal engagement ring depends on how bigger is your stone, is or if,    you have chosen side stones and intricate designs.
But more commonly, you would find an opal engagement ring for $400 to $600, and if you want a more fancy opal engagement ring, it would cost you around $800 to $1000.
Besides the beauty of opal, the cost is also a factor why people are choosing opal as an engagement ring.
Benefits of Wearing an Opal Engagement Ring
Opal is the birthstone for October born and it is believed that it brings ultimate peace to the wearer. It's most common that people may want to wear an opal for the beauty that is encapsulated within, but there is so much more beyond the appearance that an opal has to offer.
Wearing opal as an engagement ring brings more love, compassion, and prosperity in a relationship. Also, this mystical stone is believed to bring harmony and confidence to the wearer.
This style statement stone has both physical, emotional, and spiritual benefits, which we have mentioned below.
Physical Benefits of Wearing an Opal
Opal helps in improving blood purification and circulation

Opal works on your overall body health, including your hair, eyes, nails, and skin

Memory power got sharpened once you started wearing an opal

Opal helps in preventing the female reproductive system from diseases

repetitive headaches and migraines can be cured by opals

Opal helps in building neuro stability.
Emotional and Spiritual Benefits of Wearing an Opal
Maintain a connection between all your chakras

Helps in clearing your vision towards life and makes a person foresighted.

Improves skills and enhances the creativity of the beholder

Inner positivity is attained and helps in boosting morale

Builds up high self-esteem and makes a person stable
The benefits of wearing an opal would leave you awestruck. Spiritually, an opal would make you attain the calm that you needed the most. Your manifestation would become true and your decision-making power would increase. See, we have told you! There is so much more beyond its beautiful appearance.
Popular Styles and Settings of Opal Engagement Ring
Adding a halo of the diamond is probably the best way to make the opal highlight its beauty. Jewelers love how sparkling diamonds make an opal engagement ring more fanciful.
If not halo, then you can choose to put side stones – this is a great way to make your opal engagement ring more elegant.
But, if you want all focus on your opal stone, then you can opt for an opal solitaire for sure. The solitaire setting of this exquisite stone is breathtaking.
Note: A bezel setting would also fit perfectly if you want to protect your opal.
Opal Protection and Care
We know you couldn't resist but fall for the beauty of an opal. The same is the case with us!
But first thing first, since you know opals are not very hard, you need to handle an opal ring very gently. The opal shows 5.5 to 6.5 hardness on the Mohs scale and that's why this delicate enchanting stone needs proper care and cleaning.
Points to Ensure the Safety of Opal Jewelry –
The very first step to take care of your opal jewelry is to put it in a safe cloth box, which is padded enough to not let any moisture inside of the box.

The use of hard chemicals and cleaners or bleach is strictly prohibited while you are dealing with an opal.

Always avoid your opal jewelry to put under Ultrasonic rays for cleaning, because it will do more harm than good. In the worst case, the vibrations of these rays could make cracks in your jewelry.

If you want to clean your opal jewelry at home, a soft damp cloth with a soft toothbrush is required with gentle detergent. This way you can clean your opal jewelry safely.

Remember, if it has been a long time since you haven't cleaned your opal jewelry and it has scratches and less sheen, then professional cleaning is required to revive its shine like before.
History of an Opal
Opal: Known as the queen of gems, this gleaming stone is recognized as an October Birthstone.
While opals are extremely popular these days, have you ever wondered when they came into existence?
Well, opal has been a showstopper since the beginning but it came to fashion when it has stolen the heart of Queen Victoria with its beauty. And not only her, the lovers of opal include Cleopatra and Empress Josephine too.
Back then in times, people of many cultures use to believe that opals have power and they come from supernatural origins. "The opals fall from the heaven when lightning flashes" is believed by many Arabic Legends. While the Ancient Greeks believed that opals have the power to guard people from disease. Moreover, the Europeans signify opals as a symbol of purity, hope, and truth.
Opal has a deep enriched history, and it is nearly impossible to read it and not get fascinated by any aspect of this stone. It's like this gorgeous stone cast a spell on everyone who reads about it!
Conclusion
Reading this blog you would have made up your mind to buy this dreamy blushing stone as soon as possible, we knew it!
And that's why we have chosen a site, where you can see a huge assortment of opal rings, pendants, necklaces, bracelets, and earrings and can buy them by being on a budget.
Opal is an artistic stone, don't think twice before buying it, because we know that your partner would be going to appreciate a piece of opal jewelry more than anything else. Choose any metal for this stone jewelry and present it to your significant other, you can't imagine the happiness your partner would witness.