They say love is not a feeling. That's because feelings are emotions, and emotions fade over time. No, love is a commitment and a choice. It's an everyday decision and a promise to commit to an imperfect person.
If you and your significant other are celebrating your anniversary any time soon, congratulations! An anniversary is a beautiful milestone that's worth celebrating. As our anniversary gift ideas to you and your better half, we rounded up the best anniversary gift ideas for you to love and enjoy.
We put together a list of ten gifts for any type of wife. It should work for a wife with a sophisticated taste for fashion, a fitness-loving wife, and for a wife who wears her heart on her sleeves.
Scan our list for the perfect wedding anniversary gift ideas and discover most of the gifts' underlying meaning that would undoubtedly resonate with your wife.
1. For your forever love
Say "I love you," in style with this classic Bvlgari Bvlgari necklace. The brand's luxurious roots emanate an effervescent statement of timeless style. In turn, this would symbolize the timeless adoration you carry for your wife. 
This necklace is made in an 18 karat rose gold with a mother of pearl center on the pendant, which you can write a customized note at the back.
2. For your ray of sunshine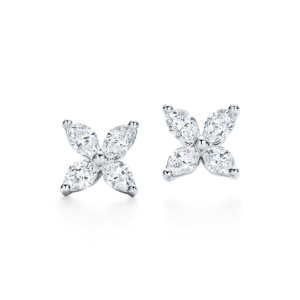 Surprise your beautiful ray of sunshine with these Tiffany Victoria® Earrings. These earrings carry a romantic kind of fire and radiance, displayed through four marquise-cut diamonds formed into a perfect floral design.
Each uniquely cut diamond hugs the warm ray of the sun and plays it off to create a glorious sheen.
3. For the wife that loves fancy silk robes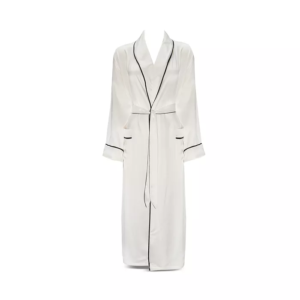 Pick this fancy silk robe from Gingerly for your significant other on your anniversary. This mulberry-made white silk robe features contrasting black piping along seams and pockets.
4. For your wife's skincare regimen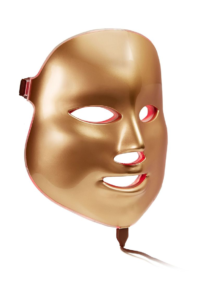 Your wife that cares for the house, you, the kids, and juggles all that with work deserves the best skincare treatment. Spoil her on your anniversary with an at-home skincare treatment with this Light Therapy Golden Facial Treatment Device.
It features five targeted light settings, giving them radiant, young-looking skin. The healing combination of the LED calms and rejuvenates the complexion while visibly diminishing hyper pigmentation and promoting collagen for firmer, smoother skin.
5. For the wife that likes to smell fresh and fancy
Spoil your wife with a great scent of Wood Sage & Sea Salt Cologne from Jo Malone. This fresh-scented cologne carries the windswept scent of fresh air and sea salt, mingled with sage's woody earthiness and the mineral scent of rugged cliffs. Each fragrance creates a lively, spirited, and joyful vibe, perfect for your equally cheerful wife.
6. For your fashion-forward wife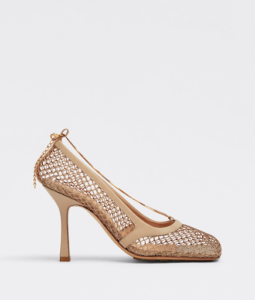 A wife that turns every pavement into her runway deserves this mesh square toe pump from Bottega Veneta. This threaded pair of shoes with a delicate gold-finish chain offers aesthetically pleasing touches of the fancy modern, minimalist era.
Its sole is also injected with rubber for comfort and stability. All in all, this Bottega Veneta Pre-Fall piece focuses on an elevated reality of dressing.
7. For the wife that lives in yoga pants
It's a known fact that comfy yoga pants make the best outfit whether it's a workout day or not. If your wife practically lives in yoga pants, surprise her with these high-rise yoga pants from Tory Burch.
These breathable leggings are perfect for high-impact exercises as they are moisture-wicking and opaque. Throw in its complementary cross-back bra, and they're ready for a workout or a lounge day.
8. For the fitness buff wife
Impress your wife when you surprise her with The Ultimate Home Studio Set. This yoga set is perfect for the wife that loves to release endorphins every single day. These workout gears are sure to spark joy and inspire movement.
9. For your ever-romantic wife
See the love in her eyes when you give your wife this personalized song lyrics framed poster from Sole Studio. 
You can opt to customize the writings to your wedding dance's lyrics or your theme song — whichever you prefer. You can also choose your preferred frame length and style.
10. For the wife that wears her heart on her sleeves
This Classic Cartier Love Bracelet proves that the brand's design vision stems from love. This bracelet is carefully crafted in perfect proportions, with precise clean lines, to meet two rigid arcs that should be screwed together using a special matching screwdriver — which you hold.
Reads More: Prevent Shoulder And Back Pain By Adding Low Carb Foods To Your Diet
This bracelet is so beautiful and unique that only you can open it. This is a lovely and adorable play of the classic saying, "You hold the key to my heart."
Happy Anniversary!
True, it would take so much stress off your shoulders if your wife tells you what they want, so you don't have to press your brain for the perfect wedding anniversary gift. But that is a romance and surprise buster!
If you're pulling your hair trying to pick the best gift, don't panic. You can always choose a customized gift to melt your wife's heart. A chic gift would also excite her fashionable soul. Whatever you do, just don't give her home furniture or appliances! Think of something that you always hear her say she'd love to have.
Good luck and happy anniversary!
Author Bio:
This is Aryan, I am a professional SEO Expert & Write for us technology, fashion, lifestyle blog and submit a guest post on different platforms- technootech provides a good opportunity for content writers to submit guest posts on our website. We frequently highlight and tend to showcase guests.